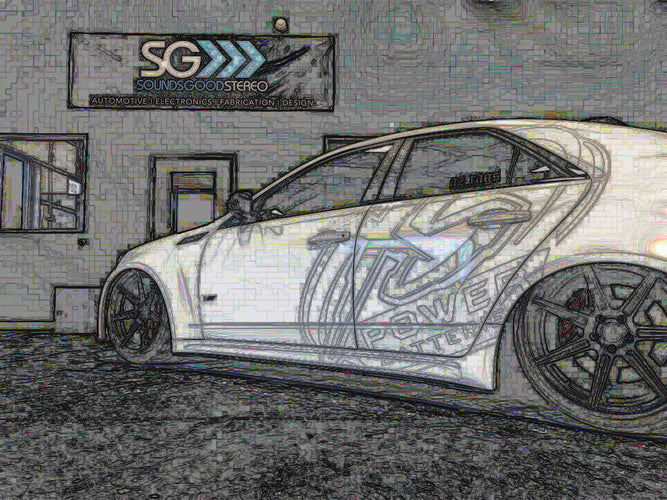 – Custom Stereo for XS Power Batteries –
| | |
| --- | --- |
| Vehicle Year: | 2014 |
| Vehicle Make: | Cadillac |
| Vehicle Model | CTS-V |
| Work Performed | Complete Stereo Upgrade |
| Headunit | OEM Factory |
| Streaming | Mosconi AMAS |
| Amplifier | Sundown Audio 5ch |
| Subwoofers | 8-inch Sundown Audio |
| Sound Processor | Mosconi 4to6 SP-DIF DSP |
| Batteries | XS Power Ultracapacitors Cells |
In late 2018, we just moved into our new facility located just outside of Nashville, TN in a small town called Mt Juliet and we received a phone call from XS Power Batteries. Our facility was literally a bare warehouse with just our tools that we brought up from Miami and we had a near-impossible task to complete. The task was to build a SEMA car in 3-weeks. While this timeframe is nothing new to our team, it wasn't just a "stereo upgrade" that we had to complete. We had a stack of performance add-ons to fit into the vehicle along with the stereo. The most challenging task is how do we fit everything in the trunk, make it serviceable, and make it look organized and not cluttered.
With this vehicle being a sponsored car, just about everything with a manufacturing logo had to be displayed, somewhat equally. We could not just hide all of the products and build a sexy trim panel. This had to represent everyone involved and do it with style. The list of gear in the trunk of the vehicle will blow your mind.
Here it is… Ice tank for the twin-turbo setup, complete air-ride setup (compressor, tank), large XS Power battery along with the power supply/charger, bank of XS Power Ultracapacitors Cells, Two Nitrous Oxide tanks, custom ported subwoofer enclosure with an 8-inch Sundown Audio subwoofer, 5-channel Sundown Audio amplifier, JL Audio Fix Processor, Mosconi 4to6 SPDIF, power distribution blocks, LED lighting modules and a few smaller items… All of this needed a proper home that could be serviceable and mounted securely for the 1,400+ HP that this CTS-V could produce.
After almost a week of mockups and ideas, we had the plan. The end result was exactly what we and the team at XS power were looking for. A show quality installation with functionality to service all of the performance products.
– Organization of the stereo system and all of the components is always the first step. When everything is laid out with an understanding of serviceability for the future, the system tends to be more enjoyable for the customer along with any service workers that need to update any of the equipment in the vehicle. In this case, tons of performance components meshed with the stereo system, and serviceability is very simple. –
This Cadillac CTS-V will always have a special place in our heart. With this being the first large project we completed at our near location in the Nashville, TN area to the challenges of not having our shop setup to really facilitate a project of this size, it proved to ourselves the true capabilities that our team has. Since the first day, we saw the CTS-V, it has had several revisions to the exterior along with a constant update of represented products. We are proud to provide the team at XS Power Batteries a platform to grow their company and represent the vendors they work with.
– This vehicle is one of the showpieces for the team over at XS Power Batteries. It travels the country and is showcased in front of tens of thousands of people at shows like SEMA, PRI, and many car stereo shows. The vehicle needs to stand out from the crowd and draw potential customers in to check out all of the vehicle's uniques additions. –
If you happen to see the XS Power CTS-V at a show, snap a photo and be sure to tag us, we always love to see our work "out in the wild". We want to finish this portfolio page off with a huge thanks to the XS Power Team and we look forward to delivering the next project, which is already at our shop and it will make this project look "simple".
Are you planning a new build and have tight deadlines? If so, please don't wait until the last minute to contact our team as we stay consistently booked up and your SEMA build might not be the only one we have planned. Send our team an email or stop by our facility today.
Also stay tuned in and be sure to subscribe to our YouTube channel for up to date projects we are working on. Enjoy the photos below if the build.