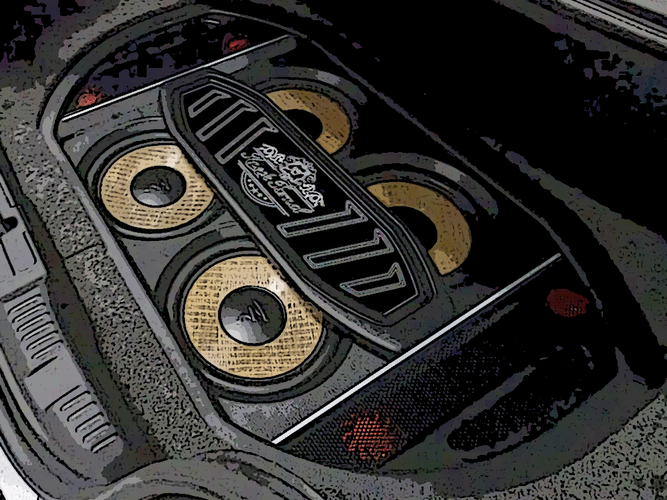 – Custom Stealth Stereo System –
2020 Ford Mustang
GT500 Shelby
Started in 1957, racing driver Carroll Shelby opened up his sports car dealership and since then, has been developing high-performance vehicles for enthusiasts across the world. After the initial success with the AC Cobra, in 1964 the new Ford Mustang debuted at the New Yor World's Fair. Shortly after, the Shelby GT350 was released as a higher-performance version of the stock Mustang.
Fast forward 56 years and we have the latest Mustang Shelby GT500 creation in our facility for a custom stealth stereo system that matches the performance from the 760hp V-8 under the hood. Utilizing the best stereo products in the industry from brands such as Focal, Mosconi, PAC Audio, and more, we develop the ultimate stealth stereo system for this client.

The first step in any stereo upgrade is to identify the factory system. Upon first glance, the system seemed to be a B&O (Bang & Olufsen) system. In the factory center channel location, you will notice a B&O logo, but with years working on Ford F-Series platforms, we know that is not always the case. After locating the factory amplifier in the driver's side kick panel, it was identified as a Sony system. To interface into the factory radio properly, we used the PAC Audio interface along with the PAC Audio speaker wire plug. This created a true plug-and-play integration that we needed to start this system build.
The next step was to identify the speaker locations and develop new parts to not only install the speakers but to again, make them plug and play into the vehicle. Since we already had the mid-bass location manufactured, we moved to the factory mid-range location. Since removing the factory speaker from the housing required cutting wires, we developed our own speaker adapter for this location. Last, a laser-cut tweeter mount was developed for the a-pillar and in the end, 100% factory appearance and completely reversible to factory speakers.
A large part of this build was to develop a stealth installation in the trunk. As you will see in the video on the right, a lot goes into a build of this caliber and the end result is simply amazing.
– In our world, factory fit & finish is the pinnacle of a great stereo system. From custom manufactured parts to factory-matched materials, the end result should appear factory, but perform to the highest levels –