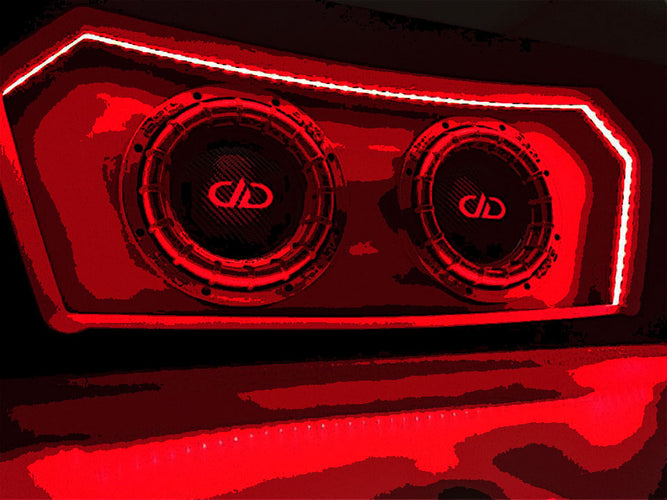 – Custom Built Subwoofer Enclosure –
When choosing a subwoofer package for your vehicle, you have many subwoofer choices and shops that you can work with. As you could imagine, choosing the best car stereo shop is very similar to choosing the best restaurant. Some customers have high expectations and some customers are willing to cut corners to save a little bit of money. For the customers that do not care about installation quality, then we are not the shop for them. But if you're like this customer that wanted a custom subwoofer enclosure that achieved maximum performance, then you are in the right place.
Adding a subwoofer system to a vehicle is not that challenging. It requires the proper tools and an understanding of the audio signal that exits in the factory stereo. Just like anything, you go in guessing with electrical connections and you will not get the result you were looking for. Originally, this customer visited a shop over an hour away from us assuming they could deliver a basic subwoofer system in his new Cadillac XT5. Immediately after he picked up the vehicle he realized something was not right and started looking for the best car stereo shop in the area.
The previous shop hacked up the wiring in the vehicle and did not properly integrate into the vehicle for the subwoofer audio signal. Also, the previous subwoofer enclosure was tuned very high for traditional subwoofer systems today. So we removed all of the aftermarket wiring and the equipment to start from scratch.
– You cannot expect to guess at car stereo systems and end up with a good result. You need the tools, training, and understanding of the audio signal to maximize the performance of the audio system, even for something simple as a subwoofer add-on. –
The first step of upgrading the stereo system in a vehicle with a factory radio is to analyze the audio signal. To do this, we use multiple tools such as Oscilloscopes, Real-Time Analyzers, Digital Multi-Meters, Phase Checkers and more. These tools provide us a visual of what the audio system is doing and allows us to gather the proper data to feed to the new audio system. In this case, we needed a left + right audio signal that plays at a minimum 20hz to 100hz to feed the subwoofer signal.
In this Cadillac XT5, the audio signal from the factory stereo was not exactly what we wanted. So we utilized the JL Audio Fix82 which combines multiple signals from multiple channels and processes them into the perfect signal that we need. Now that we have the audio signal that we need, we started on the fabrication of the subwoofer enclosure. The customer wanted an enclosure that he could show off to people and his favorite color was red. So edge-lit plexiglass along with the words "El Tipo" was embossed on the enclosure. The end result was exactly what the customer expected and the performance of the audio system…….well, let's talk about DDAudio a little bit.
– To deliver a great audio system, you have to use science rather than guesswork. Just throwing equipment at a problem will not solve the issue, but a complete understanding of advanced audio tuning can make even a basic audio system something special. –
When choosing products for your next audio system, you have to understand there is more to the story than just specifications you see. Just because two subwoofers handle the same wattage does not mean they are equal. For example, are all 12oz steaks equal in quality? Just because you get more of something does not mean its right for you. I'm a ribeye type of person and comparing it to strip steak is not in the same ballpark.
So what makes DDAudio our go-to choice for our high-output subwoofer systems? Well, they deliver exactly what we expect every time. The build quality to the sound quality, you can tell this is not an off-the-shelf subwoofer with random parts. These products are designed with precision in mind and when you want high-output mixed with sound quality, you will not find a better product on the market today. With that being said, please choose the best shop for your expectations and prevent having to do it twice like this customer unfortunately did.