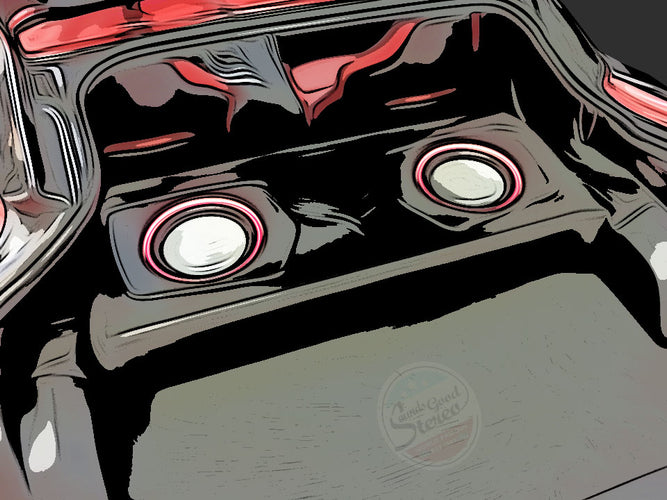 – Custom Corvette C7 Enclosure –
2015
CHEVROLET CORVETTE C7
When people think American supercars, most people will agree the Chevrolet Corvette will be at the top of the list. Since 1953, the Corvette has pushed the envelope for Chevrolet and other American automakers to think about their performance standards. It seems while they staff plenty of experts when it comes to engine performance, they leave the stereo side of things for last on the list of importance. While the stock stereo is not the worst, it is somewhat embarrassing compared to the rest of the high-performance machine that has become a staple in American automotive culture.
In 2014 when Chevrolet released the all-new C7 Corvette, it was no surprise it was in dire need of a high-performance stereo upgrade. With limited real estate and a removable hardtop, our team needed to find the perfect subwoofer solution.
After several hours of measuring, we found it. The subwoofer enclosure that you will see in the pictures below allows for the hardtop to mount in the factory location and how well it matches the interior of the vehicle. This provides a stealth installation while maintaining maximum functionality.
A very similar vehicle, the C6 Corvette present similar challenges. To the right/below, you can check out a walk-through video as we showcase what we offer for these Corvette platforms
– A great aftermarket subwoofer enclosure combines functionality, performance, and aesthetics that match the customer's lifestyle –
After the subwoofer system was built, tested and installed we moved on to the rest of the system. The front speakers we chose were the Focal Access Series 3-way kit powered by an Arc Audio 5-channel and an Arc Audio 4-channel amplifier for a total of 9-channels. To bring all of this equipment together, the Mosconi 6to8 digital signal processor was used to tune the entire active stereo system. The end result? Well, let's just say the stereo system represents the high-performance machine that Corvette intended to build
Interested in upgrading the stereo system in your Corvette? If so, give our team a call or stop by our facility. Interested us shipping this enclosure to you?

Click here to purchase

.
Also, stay tuned in and be sure to subscribe to our

YouTube channel

for up to date projects we are working on. Enjoy the photos below if the build.