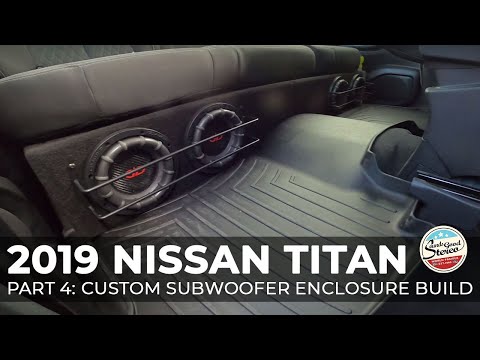 2016-2020 Nissan Titan Custom Subwoofer Enclosure
Our Price:
customers are viewing this product
Authorized Retailer

We know our Products

Hours of Operation

Monday-Friday 9am-6pm CST

In-House Experts

Real World Applications

Easy Shipping

Free shipping on all orders over $99
Share this product
Are you looking for a Custom Nissan Titan
 Subwoofer enclosure? Not only does this enclosure look amazing, but it's also designed to deliver the best sound quality, output, and low-end extension that you won't find in other Titan enclosures. 
With over 1,200 wrms power handling, the loaded subwoofer option will arrive at your door, ready to deliver the low-end bass response you could only dream about.
Any questions, please let us know. The estimated handling time is 21-days currently from the date of purchase.
This enclosure fits:
2016-2019 Nissan Titan

Notes:
The enclosure we will ship has rounded corners, not squared off like the video. 

Want to see how we build this enclosure? Watch the video below!! Enjoy!



Customer Reviews